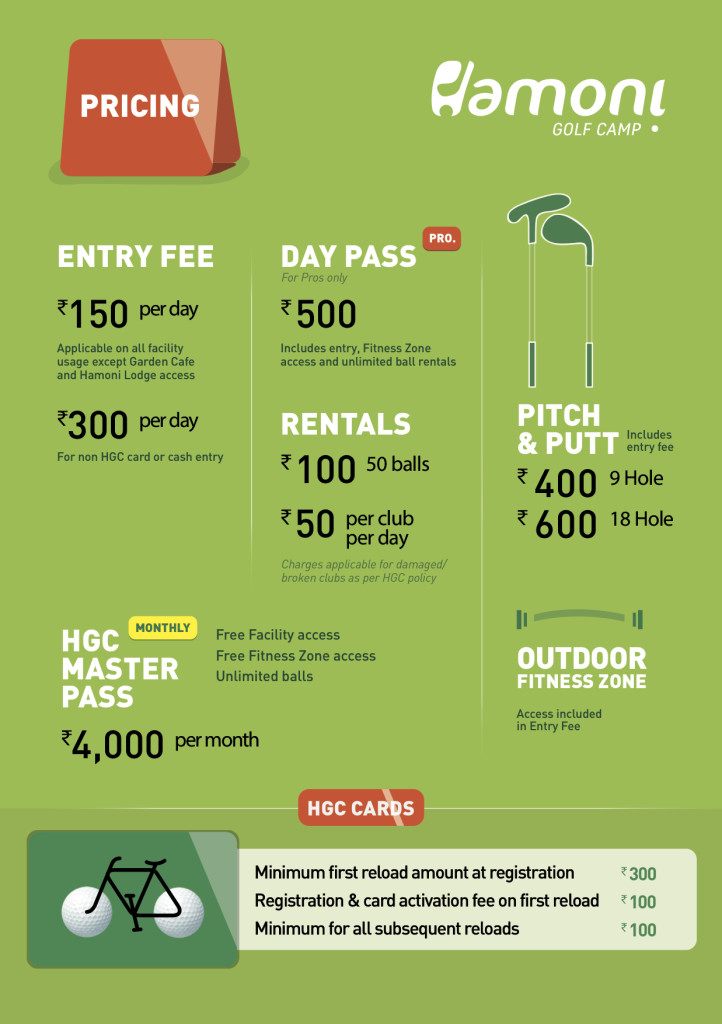 At Hamoni Golf Camp (HGC), we have attempted to create a training facility and environment that not only delivers a golfing experience like none other, but also encourages more people to learn and play golf by making the sport more accessible. The praise and positive reviews we have received from you and other visitors has been very encouraging, but we believe we can do even better to ensure HGC becomes the best training facility and beacon for golf in the country. 
To achieve this and to enhance your own experience at HGC, we seek your support as we revise our Facility Entry Fee from Rs. 100 to Rs. 150 with effect from Sunday 1Mar15; this small increment will go a long way as it will enable us to continue adding great facilities, improve existing ones and maintain our quality, all for your benefit. You'll see the changes coming up throughout the upcoming summer season and beyond, and we're very excited about it! We thank you for your support in advance!
In addition, based on your feedback in our Outdoor Fitness Zone (Gym) survey, we are scrapping the access fee for the same with effect from Sunday 1Mar15! We firmly believe fitness and golf should go hand in hand, which is why you are now free to use the Outdoor Fitness Zone as part of your Facility Entry Fee! We have more changes coming up soon based on your valuable feedback.
Lastly, to give you maximum savings, we have a new and improved 1 Month HGC Master Pass option at just Rs. 4000/- (with free entry & unlimited balls), also starting Sunday 1Mar15! Stay tuned for our next communication as we'll be offering the first 50 Master Passes at an even LOWER offer price (no joke)! 
Please review our Pricing poster for all the changes which will come into effect from 1Mar15.
Regards, Team HGC #golfisforme
Note: As per HGC T&C pricing/offers are subject to change without any prior notification.