HGC launches the new Trinity Pack at just INR 11,900! Save upto 30%!
Multi Benefits of the HGC Trinity Pack: 
1) 3 Month Master Pass – Unlimited ball rentals, entry and access to our Outdoor Fitness Zone for 90 Days.
2) 3 Individual Lessons – 3 Individual Golf lessons to take your game to the next level.
3) 3 Pitch & Putt Rounds – Experience how the game is actually played at our 9 Hole Pitch & Putt golf course.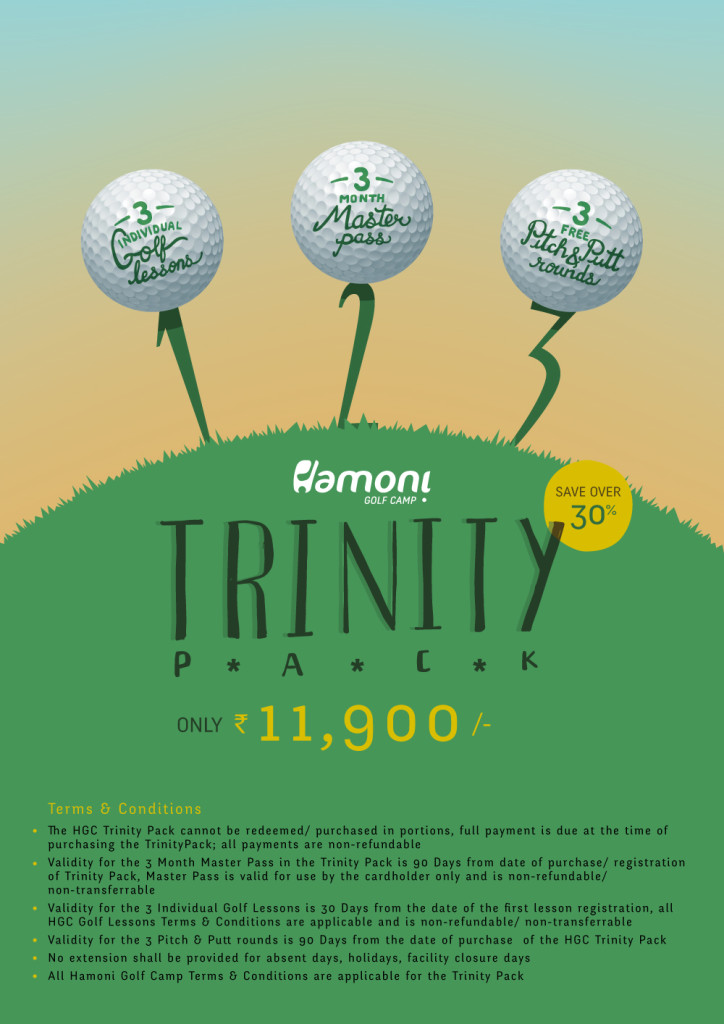 Terms & Conditions:
1. HGC Trinity Pack cannot be redeemed/ purchased in portions, full payment is 
due at the time of purchasing the TrinityPack; all payments are non-refundable.
2. HGC Trinity Pack is only valid for the HGC cardholder purchasing the Trinity 
Pack, may not be used by/ transferred to anyone else.
3. Validity for the 3 Month Master Pass in the Trinity Pack is 90 Days from date of 
purchase/ registration of Trinity Pack, Master Pass is valid for use by the cardholder only and is non-refundable/non-transferable.
4. Validity for the 3 Individual Golf Lessons is 30 Days from the date of the first 
lesson registration, all HGC Golf Lessons Terms & Conditions are applicable 
and is non-refundable/ non-transferable.
5. Validity for the 3 Pitch & Putt rounds is 90 Days from the date of purchase of the HGC Trinity Pack.
6. No extension shall be provided for absent days, holidays, facility closure days, non usage of Trinity Pack etc.
7. Trinity Pack is non-transferable and non-refundable.
8. All the discounts offered in the Trinity Pack cannot be clubbed with any other 
offer or scheme.
9. Trinity Pack Pricing and offers are subject to change without any prior notice.
10. All Hamoni Golf Camp Terms & Conditions are applicable for the Trinity Pack.
Note: We are also revising some of our prices to be able to serve you better with 
effect from

Fri, 15Jan'16

; we hope to have your support as always. See poster below 
for details.