Elitist English Game, Now India's Biggest Sport
Currently the world's most popular (and profitable) cricket league, the Indian Premier League T20 or IPL, is underway across the sub continent with legions of fans cheering on their favorite teams at packed stadiums and from their couches. 
During IPL season, even mighty Bollywood is wary of releasing big budget films, fearing empty cinema halls. Television channels also pay homage to the IPL season by adjusting TV shows around match timings. Needless to say, IPL also trends each day on print and social media.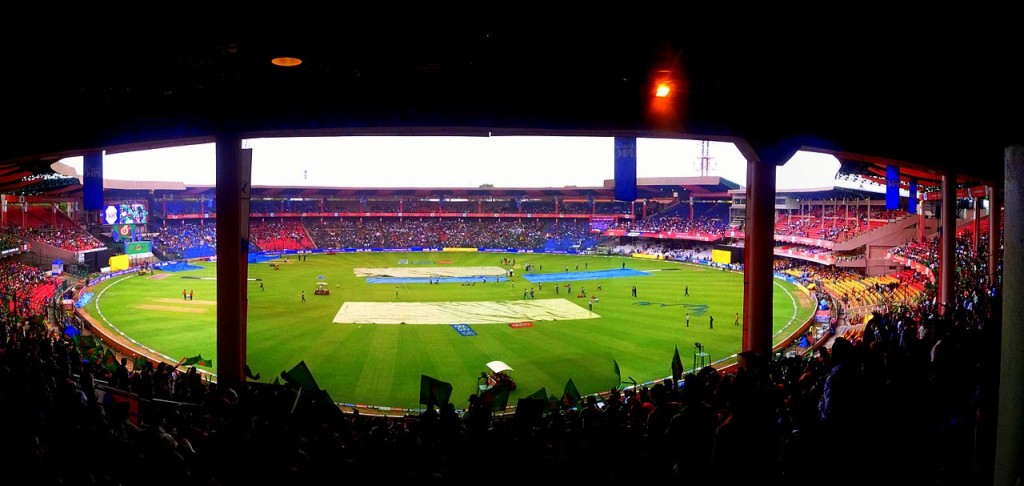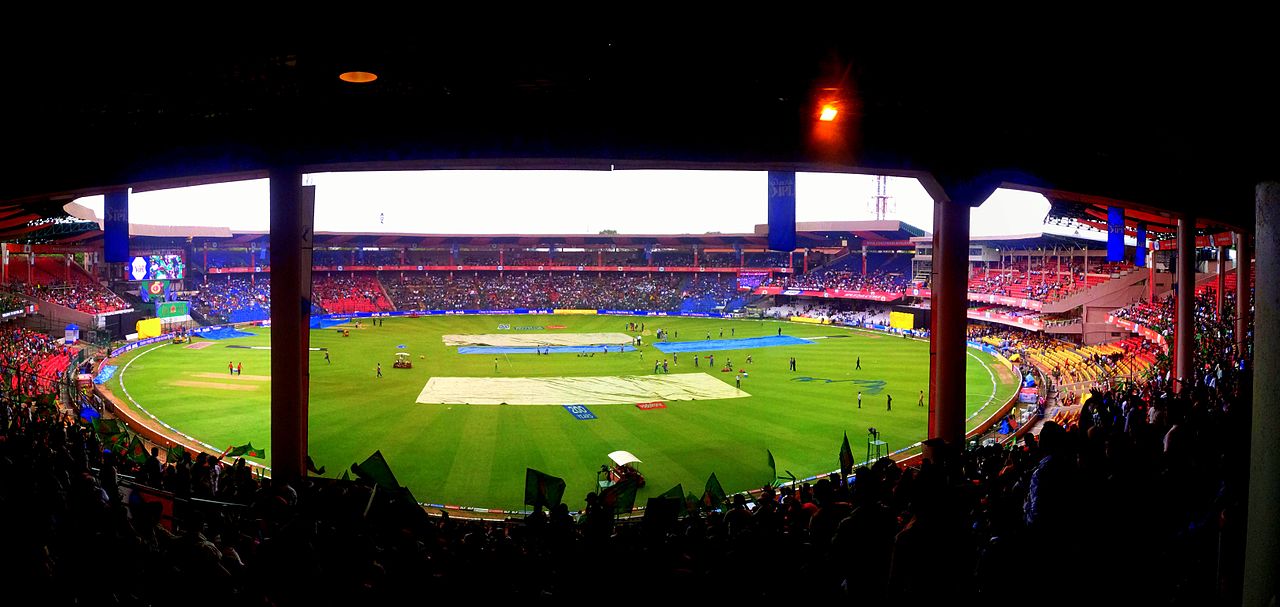 IPL RCB Chinnaswamy Stadium, By Ashwin Kumar (Flickr: Chinnaswamy Stadium) [CC BY-SA 2.0 (http://creativecommons.org/licenses/by-sa/2.0)], via Wikimedia Commons
This is pretty incredible for a sport which, like golf, was once considered an elitist English game. So how has cricket managed to break down barriers and become a beloved sport of the masses in India, while golf tails behind?
Evolution of Cricket & the 4As
To begin with, cricket was considered an elitist English game, played by, and accessible to, the privileged few. The sport, however, was spread far and wide by the British Empire. Eventually, as cricket gained popularity, barriers were broken down and the sport became more accessible.
In the hands of the masses, the game itself evolved and was molded to enable it to be played not only on large 'Oval' fields with pitches but also on the streets, in alleyways, parks and other public spaces with minimal and cheap equipment, enhancing its appeal and popularity.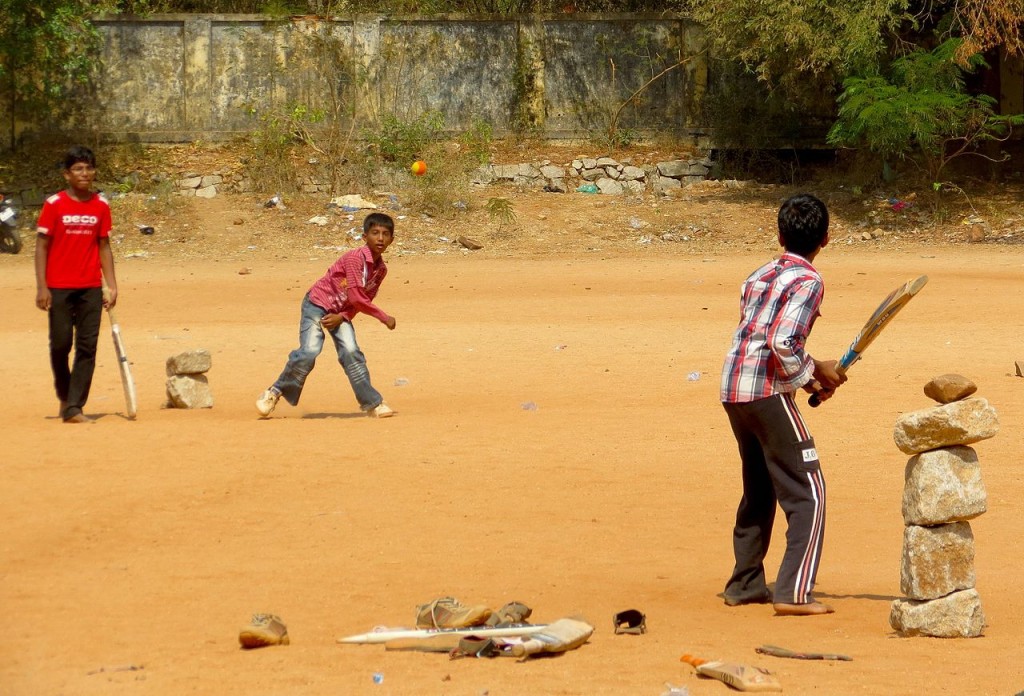 Street Cricket, By Apoorva Jinka (Their Sunday Morning) [CC BY 2.0 (http://creativecommons.org/licenses/by/2.0)], via Wikimedia Commons
The evolution has not stopped as Indian and global cricketing bodies conceptualised and introduced the T20 cricket format, leading to the IPL and other T20 leagues around the world etc., to bring the game even greater mass appeal.
While these changes were appalling for the cricket purists', it has ensured that cricket's format and appeal continue to grow and are in tune with the cultural changes that come with each new generation.
Broadly, cricket has addressed 4 key aspects in popularising and evolving the game; these are what I like to call the 4As – AWARENESS, AFFORDABILITY, ACCESSIBILITY & APPEAL.
Applying the 4As to Indian Golf
For golf in India, the path to glory also lies within the 4As which cricket has leveraged so well; so how is golf in India faring in addressing the 4As? Here's a quick review – 
AWARENESS: Golf is extremely popular on its own, but appears dwarfed next to cricket. Awareness in popular media is limited, but the successes of Indian golf stars like Jeev Milkha Singh, Anirban Lahiri, Arjun Atwal and others are bringing golf into the spotlight. Another key aspect is the groundwork being done by various organisations in nurturing golf at the junior levels, who will be the consumer demographic and golf stars of tomorrow. A large part is also being played by real estate developers who are including the golf experience in their property developments.
Globally, especially in the West, new awareness is also being generated through golf variants like Disc Golf (Frisbee Golf) or Footgolf that have adopted the rules and spirit of golf in their own style of play (check out the videos below) – 
Video: Disc Golf (Frisbee Golf) via YouTube
Video: Footgolf via YouTube
While it is not golf as we know it, these alternate sports have at least brought golf more and more into the conversation among a new and young demographic and have the potential to encourage many of them to play golf itself. It may therefore be interesting to promote these sports in India as well in sports venues (not necessarily golf venues), clubs, parks etc., and generate awareness for golf itself in the process.
APPEAL: In the 1990s, tennis saw a big boom in India as Mahesh Bhupati and Leander Paes became global tennis stars, raising the aspirational value and appeal/ awareness for the sport; tennis academies sprung up in every club, school and public venue. Similarly, now as more and more Indian golf stars are performing well on the global stage, the sport is poised to witness a huge growth trajectory that will increase awareness and appeal.
But to broaden its appeal further in a nascent golf market like India, more alternatives to 9 Hole/ 18 Hole course play need to be made available, especially for the occasional/ recreational golfer. Alternatives like Mini Golf, Pitch & Putt and Driving Ranges need to be pushed to attract that segment of golfers who may prefer to experience golf through these alternatives rather than the traditional course play.
A great example is Topgolf that has brought entertainment value to golf with its driving ranges by providing scoring based game play while you practice, on bay food & beverage service, music, party bookings etc; the experience and atmosphere is fun and exciting, which is vastly different from the traditional club golf experience.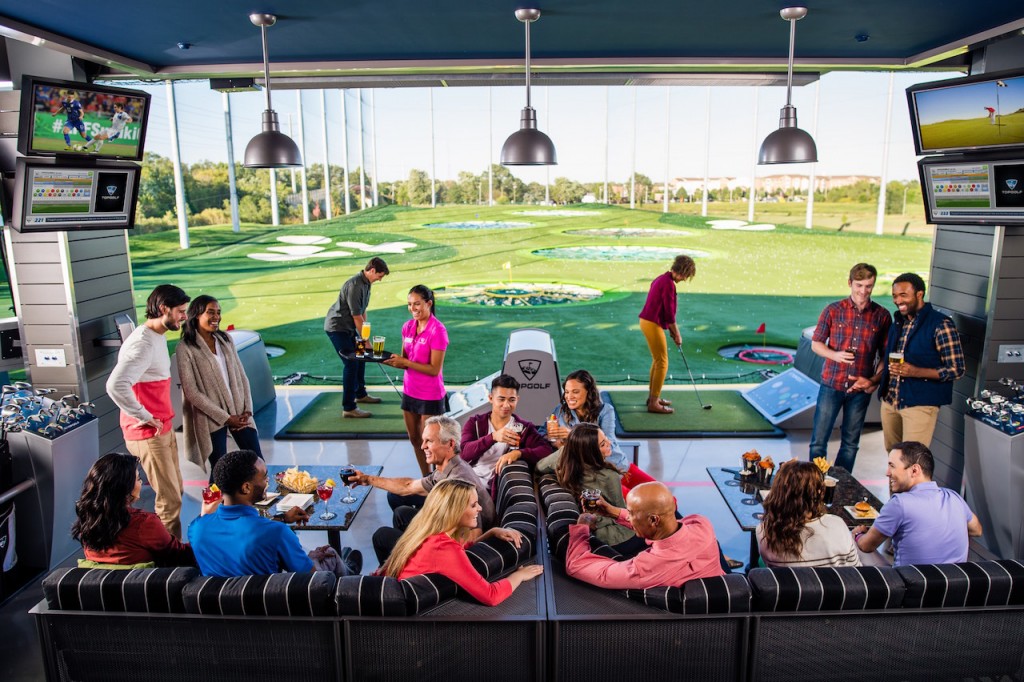 A Topgolf Driving Range Facility, By Golf Digest (http://www.golfdigest.com/story/topgolf-is-about-to-get-even-better-after-its-latest-acquisition-world-golf-tour)
Like cricket, these alternatives may be difficult for the golf purist to accept, but they will ensure broader appeal and greater adoption for golf.
AFFORDABILITY: The myth of golf's untouchability because of expense is slowly fading away. Public golf facilities subsidize golf rates, whether it is coaching, ball/ equipment rental, green fees etc. Private developments, such as Hamoni Golf Camp, are also providing greater affordability for the game than ever before.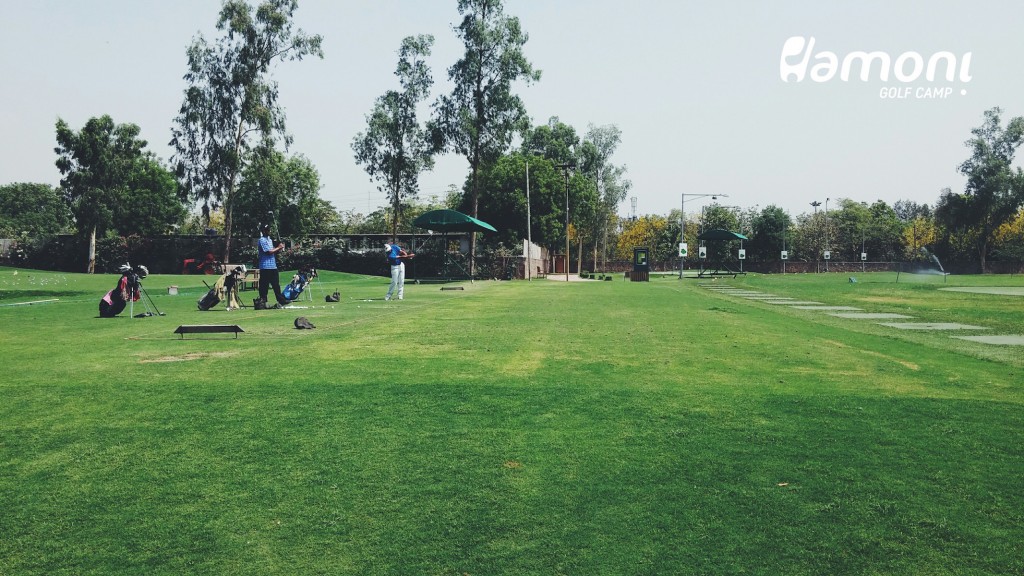 Hamoni Golf Camp, Carterpuri (Palam Vihar), Gurgaon, By Hamoni Golf Camp
Government bodies, however, need to continue supporting the game either at their own discretion or through the popular Public Private Partnership (PPP) model. The stakes are even higher now as golf re-enters the Olympics this year at Rio De Janeiro (Rio 2016), providing India with one more opportunity for a medal (golf in the Olympics is great for the game's awareness too globally and in India).
ACCESSIBILITY: With affordability comes accessibility, but accessibility also means the availability of golf infrastructure. Private real estate developers have embraced golf to a great extent, offering golf facilities as part of their property developments; while some go the whole 9 yards and build 9 Hole/ 18 Hole golf courses, others focus on golf academies, driving ranges, Pitch & Putt courses, all of which contribute to increasing accessibility for the sport.
One other crucial element of ACCESSIBILITY is the availability of golf instructors. While the National Golf Academy of India (NGAI) churns out new instructors each year, many more 'Train the Trainer' centers need to be setup across India to ensure the availability of good instructors keeps pace with the growth in golf's popularity and golf infrastructure. Instructors not only impart training to new golfers, but also nurture young talent and inspire them to play the game professionally. Without qualified instructors, access to the game is a challenge for beginners and juniors.
In Conclusion: Inspiration for Hamoni Golf Camp
At Hamoni Golf Camp (HGC) Driving Range & Golf Academy in Carterpuri (Palam Vihar), Gurgaon, we took inspiration and guidance from these 4As as we planned and executed the project.
Spread over 16 acres with over 105 practice bays, 13 target and practice greens, 19 bunkers and more (it also features an outdoor gym and restaurant), the facility is open to the public and the atmosphere is fun, casual and exciting, making it a great place for new golfers to learn and experience the game. Our range of facilities and design make it the perfect practice facility for seasoned and pro golfers as well.
Golf is at an exciting stage in India; by catering to a wide spectrum of golfers, we at Hamoni Golf Camp hope to do our part in implementing the 4As for Indian golf, and in the process, help boost the game's adoption.
To conclude, here's an inspiring video on golf which will give you a completely different perspective on the game, and how it can be moulded and changed by the general public to suit the masses –
Video: Mumbai Golf (E:60 ESPN) via YouTube
—–
Author: Ritwik Kejriwal, Co-Founder, Hamoni Golf Camp